http://www.marshhomesteadantiques.com/simple-country-books/
Welcome!
My name is Judy Condon and I am the author of the 'simply country' book series and the creator of hand-poured 'grungy' country flameless candles! Click on the heading Books, Candles or Primitives or the pictures of each to view the listings.
Where can I find your books and candles?
In addition to the website, you can find my books on Amazon, ebay under seller 'superct' and select country shops.
Toll Free: 877.381.6682
Judy's Mailing List
Other Books By Judy Condon
Click on title to view sample pages and order!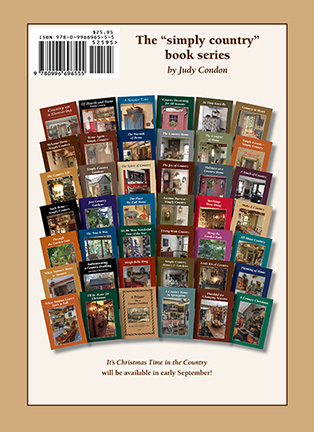 The 'simply country book series' consists of 38 house tour books and 4 garden tour books. Initially the books were arranged by room but, over time, collectors starting asking to see the entire house. The books are used for inspiration and decorating tips. The styles vary from primitive cabins to high-country colonial. Country is in NO way a thing of the past; it has evolved into many forms. Authenticating a Country Dwelling is an educational tool on how to stage a period room; a step beyond merely decorating a space.  A sequel, A Primer for a Country Dwelling, helps and educates on what a 19thC home might look like. Many of my readers have been with me since February 2005 when the first book, Country on a Shoestring, was published. Most are still available and some reprinted 2-3 times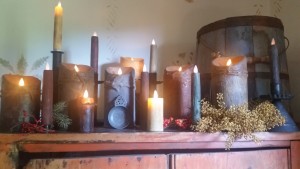 Three years ago I purchased my first Luminara candle – ivory with a movable wick, built-in timer and a remote capability. I carefully placed it on my 19thC mantel and gazed at it for over a month trying to convince myself that the look of an ivory candle blended with my 19thC period décor. Out of desperation, I disappeared into the basement while my husband indulged himself in a Saturday afternoon nap. Pulling out my old pots of blackened wax, I experimented and developed the dark hand-poured grungy country candles that have been popular now for two years. With thousands of pillars sold, I moved into an 8" taper and finally a votive size for those small spaces. It has taken me over a year to convince a manufacturer that there is a market for the 6" taper for use with our antique lanterns and candleholders. Voila! TaDa! I'm very excited to report that the 6" taper is now available,  Candles are available on ebay under the seller ID 'superct', on Amazon and from select country shops.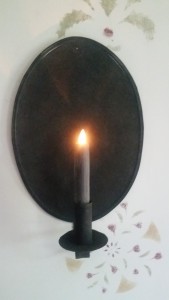 Since my first candle was created, I've looked for primitive ways to display both the pillars and the tapers. In some instances, I've been successful in finding imported reproduction pieces while in other instances I've designed tin signature pieces to accommodate the size of my candles. I've worked with a team of New England tinsmiths who have created specific pieces of tin from chandeliers to small petticoat candlesticks. Some of the tinware is specifically designed to hold an 8" taper but give it the appearance of a 6" candle. In the Lanterns and Candleholder section I am offering some of these pieces for you to show case your candle.  I hope to update it every week or so and offer a variety with limited quantities of each. In the meantime, I will continue to search for other woodenware and tinware to complement your extraordinary flameless candle.